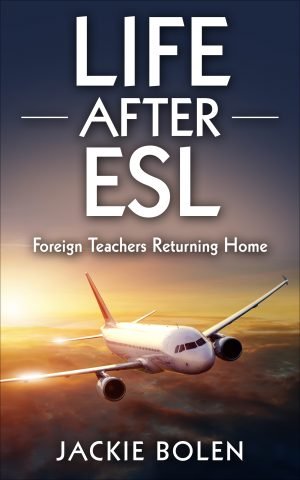 If you're thinking about returning to your home country after teaching abroad, then keep on reading! This is the article for you.
Life After ESL: Story Time
It's been about nine months now since my own return to Canada after teaching English in South Korea for 10 years. After a rough few months at the beginning, life is a lot more settled now, especially since I've figured out the job thing, and got me a sweet basement suite in the suburbs.
Equal Parts Excited and Terrified
Before I left Korea, I was equal parts excited and terrified about starting my life over in Canada. 10 years is a long time to be away from somewhere and I knew it was going to be hard. So, I did a bunch of research. I interviewed around 50 English teachers abroad who'd returned to their home countries and tried to glean every little bit of wisdom I could from them. Their advice was super solid and really helped me make the transition a bit more smoothly.
Guest Post Awesome from Shaun Dell
I also love to have some detailed guest posts on this website from people who've returned home. Their stories are really interesting and inspiring to me and I hope they are to you as well! Two of my favourite ones are: Stephen Mayeux-English Teacher Turned Computer Programmer, and Heather Douglas-Teaching and Freelancing in the USA.Want to share your own story? Get in touch! I'd love it.
This now leads me to the focus of this article: Shaun Dell. We met way, way back in the day in the "Cho" (Cheonan, South Korea). We've kept up some correspondence over the years and unfortunately, he just left Vancouver a couple of months before I moved here!
He kindly agreed to share his "Life After ESL" story with us. Keep on reading for some guest post awesome! Solid advice for finding a job in Canada. Love it. I know that I found plenty of nuggets of wisdom in there and I'm sure my readers will too.
Shaun Dell: Life After ESL
Sitting in that seat over the wing on my Air Canada flight to Vancouver, I was determined and ready for what was to come. Six months ago, Robert and I had decided not to renew our contracts with our schools in Korea and make the colossal leap to pack up four years on the peninsula.
We thought that we were ready for the next adventure, to put on our big boy pants and get jobs that didn't require renegotiating and a criminal record check every year. We were moving to Canada!
3 Years Later
Three years down the line we are living in Toronto, both employed and we have a couch that wasn't left here by the previous occupant of the apartment. And what a ride it has been. But what (besides cheap avocados) had the biggest impact on making this ride awesome? Making sure we were ready for the job market in Canada.
How did we get ready before leaving Korea?
Getting ready for job hunting in Canada (or the US, or the UK, or Australia etc.) requires that you get started long before you leave the Land of the Morning Calm.
We were selective over the city that we chose to move to and you should be too. It is a great to return to a small town where you grew up or where you went to university, but you've seen urbanization in action in Korea and it is no different in North America. There are many more job opportunities in larger cities and making a conscious choice to move to one will help in your career prospects. For us that was Vancouver.
Get Ready Before You Go
Reference letters from Korean school teachers might sound like they add little value, but having nothing to go along with your resume will be even worse. My co-teachers asked that I write the letter for them and they then reviewed, edited and signed it.
Update your resume before you leave. Speaking from my own experience, you don't want to lose valuable time upon arrival spending a day or two perfecting it.
Get your Finances in Order
If you have debt in your home country, make sure you are making regular payments.
A good credit record is essential and credit checks are used for everything from apartment rentals to some job applications in the financial industry.
We paid off all our debt while in Korea and it took a huge load off when we moved, but I know some Korea colleagues who neglected payments due in Canada while living in Korea without regard for the future impact it could have.
Make sure that your LinkedIn profile is up to date. It might seem like just another social media platform but most companies review the LinkedIn presence of job applicants and some sites even let you apply for jobs by just submitting your LinkedIn profile. While we are on the topic of social media, make sure that your Facebook/Twitter/Snapchat/Myspace profiles are either cleaned up or hidden. No one needs to see your photos from the 3000 won shot evening in Gangnam (guilty as charged…)
Okay, all set. But what about after arriving home? Tips from Shaun Dell
This is the part of the move that will take the most effort and probably drive you to drink, but to me it provided the greatest results in getting a job. Luckily there are a few simple actions you can take that will help build a foundation for your success back home.
It might sound very anti-climactic after a joyous return, but you want to start day two at home attending to admin. Get a phone number as soon as possible (no one can phone you for an interview if you don't have a phone!) and sign up for internet so that you can search the job banks.
Hiring Takes a Long Time
Be prepared for a loooong hiring process.
The hiring process takes much longer than you might think or remember. We arrived in Canada in the beginning of March. I applied for the job I ended up taking at the end of March, but I didn't get interviewed until the end of April and I didn't start working until the middle of June!
Register with a job agency in your field. Most mid-sized companies use agencies to source talent and they often provide some coaching as to what employers are looking for because of their close relationships with employers.
Take part-time assignments or temporary jobs even if you are still looking for a full-time job.
The experience looks good on your resume and is better than saying you were at home on the couch looking for a job! Short term positions are also a great way to earn some extra cash while keeping you busy.
Consider Volunteering
Be prepared to spend time volunteering.
Many companies don't hire you if you don't have some work experience in country. (This is especially applicable if you left for Korea right after university.) Volunteering shows that you are willing to work, helps you make contacts in your new city, and shows you did something during those months job searching and that you didn't just stay at home.
PRO TIP from Shaun Dell: If you are looking for a short time assignment that pays well, sign up to be a voting officer in a local/provincial/state/federal election. We signed up to be voting officers and for three days of advanced voting we each earned $1000. That goes a long way to easing financial pressures while you do free volunteer work.
Look for networking groups on Meetup. There are tons of groups for newcomers to a city and many companies place much higher value on recommendations from other employees, rather than hiring strangers.
That's all there is to it? No sweat, I'll be fine!
There is a lot of adjusting that will take place, especially if you were abroad for a significant amount of time. You must learn to forgive yourself for the mistakes you will make and for the times when everything will feel so foreign that you will want to run to the airport just to get on any flight out of here.
Reaching a level of comfort and satisfaction will take longer than you might expect.  For me it was 6 months. For our bank clerk (who funnily enough also taught in Korea!) it was nine months, and for Robert it took more than a year. And all of that is okay. Because one day you will wake up and realise you haven't yearned for Korea in a week, you haven't randomly hummed K-Pop and guacamole has replaced kimchi as your favourite side dish (okay the last one might be a lie). And then you will realise that this is home.
About Shaun Dell
Shaun lives in Toronto, Canada where he actively avoids strip malls, doesn't always dress appropriately for the weather, and sneak attacks kimchi.
He is a corporate trainer by day, and at night he posts food pics on his Instagram.(Twitter: @ShaunfromGTS).
Twitter: @SOLTATIO
Comments or Questions? I'm sure he'd love to hear from you, so either get in touch with him on Twitter, or drop him a comment below.
Considering a Move Back to your Home Country?
If you're considering moving back to your home country after teaching English abroad, it can be a bit of a daunting thing. After all, you've built your life in another country, but now have to start over in another one.
However, there is hope! Life After ESL is a book written specifically for you. It has tons of advice, along with extremely practical tips to help you make the transition as smoothly as possible.
You can get Life After ESL in digital, print and audio formats. It really is that easy to get prepared now!
Check it out over on Amazon:
And, if you want to listen to the audiobook, you can check it out for free on Audible:
Have your Say about this Interview with Shaun Dell
What are your thoughts about Shaun's move to Canada? Any comments or questions? Let us know below. We'd love to hear from you.
Also be sure to give this article a share on Facebook, Pinterest, or Twitter. It'll help other teachers, like yourself find this useful resource.
Last update on 2022-05-24 / Affiliate links / Images from Amazon Product Advertising API