An equally motivated language partner is a great way to improve your English skills. The key is to find someone who is as motivated as you are! This probably is not your best friend or boyfriend, so cast your search wider for a language exchange partner.
Need a Language Partner? Here's How to Find One
It's best if you find a partner that does NOT speak your first language so you won't be tempted to chit-chat the whole time! If you do find someone who speaks your first language, make a rule about how much of that language you'll speak during your time together (maybe only 5% or less?).
Find a Language Partner Online
If you can't find a language partner in your area, consider finding one online. A site that I recommend is The Mixxer. The BBC lessons with discussion questions for you and your partner are excellent. It's most useful if you're looking to improve your reading and writing skills.
Easy Language Exchange is also another good one that you can check out.
Another, My Language Exchange, allows you to browse by location or target language. You can chat by voice, text, or email, and there are lesson plans available if you need them. For voice or text sessions, the first half of the period is in one language and the second half in the other.
What about a Language Exchange on your Phone?
If you would rather use your phone than your computer to study with a language partner, there are apps for that! Tandem has over 1,000,000 users and 15 million monthly chats. It has lots of active users on this site.
HelloTalk has similar functions as Tandem but also allows you to call your language partner (for free) for better sound quality.
Busuu: Excellent for Beginners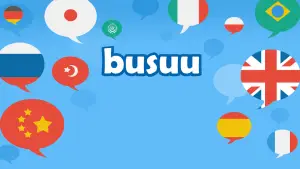 Busuu is available as an app and online. If you use the online version, you can record yourself reading the dialogues and listening to the playback. With the Premium membership, you can submit it to the community for evaluation.
If you're not a beginner, the exercises will be a bit basic for you. However, if you don't have regular access to a native speaker or can't afford to hire one, this is a good alternative. It's not free, but at the time of writing, only costs €70 per year, which is much cheaper than a tutor!
Find Language Exchange Partners: Ideal for IELTS Speaking Exam Preparation
If you're preparing for something like IELTS speaking, finding a language exchange partner is an ideal way to prepare! The key is getting a lot of practice with speaking. Here are even more ideas:
What Should We Talk About?
If you find a conversation partner, it can be helpful to choose a certain topic to discuss instead of just small talk. If you don't do this, it's easy to chat about the same old things all the time and not challenge yourself with more difficult topics. Here are some of the best suggestions for what to talk about:
Like this Tip on How to Find a Language Partner?
If you found this tip about how to find a language exchange partner, then you'll need to check out this book on Amazon: Study Tips to Learn English Faster: Become Fluent Quickly and Easily. This tip about finding a language partner is directly from that book!
The authors, Jackie Bolen and Jennifer Booker Smith have taught English to students from many countries for almost 30 years. During that time, their students have asked them so many times about how to improve their English skills! This book contains the advice they've given them. It ranges from speaking to writing, listening to reading, to grammar, vocabulary, improving test scores, having fun with English, and study skills. You're sure to find something useful-there are more than 200 tips and tricks.
You can check out the book for yourself on Amazon. It's available in both digital and print formats. The (cheaper!) digital copy can be read on any device by downloading the free Kindle reading app. 200+ tips at your fingertips! Read it on the bus, while waiting for class to start, or during your lunch break. Better English skills are in your near future.
FAQs About Finding a Language Partner
Here are commonly asked questions and answers about ESL students finding an English conversation partner.
How do I find a Tandem partner?
Create a Tandem profile, set clear goals for your Tandem partner, find someone on the language level you are looking for, and create a regular schedule in advance.
How to find a conversation partner in English?
Some of the best places to find a language partner include The Mixxer, Easy Language Exchange, My Language Exchange, Tandem, HelloTalk, and Busuu. You can also try to find a conversation partner from your network. Furthermore, if you are a student, some colleges and universities have their own conversation partner program for ESL students to find language partners.
Does HelloTalk cost money?
HelloTalk offers a free version. However, you may choose to change to a paid membership in order to get rid of the in-app advertisements.
Find a Language Partner: Join the Conversation
Do you have any tips or tricks for finding a language or conversation partner? Leave a comment below and let us know what you think. We'd love to hear from you.
Also, be sure to give this article a share on Facebook, Pinterest, or Twitter. It'll help other English learners like yourself find this useful resource.
Last update on 2022-06-17 / Affiliate links / Images from Amazon Product Advertising API