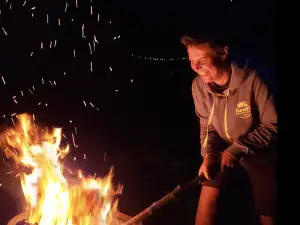 About Jackie Bolen
You can contact Jackie at: [email protected]
Jackie Bolen taught English in South Korea for just over 10 years. She started working at hagwons (private language institutes) but soon got her first university job.
She began teaching at a science and engineering university in the rice paddies of Chungcheonnam-Do where she worked for 5 years. After that, she moved to Busan where she worked in the English department at one of the largest private universities for almost 4 years before returning to Canada.
She's also the author of more than 70 books, both for ESL teachers and English learners. You can find them all on Amazon here: Jackie Bolen on Amazon.
In her spare time, she can usually be found on a mountain, surfing a few waves, or riding her bike. She's also on a mission to find the best Korean supermarket, and the most delicious Korean restaurant in all of Vancouver.
In February 2016, Jackie returned to her home country and now live in Port Coquitlam, BC, Canada (a suburb of Vancouver).
If you're looking for some games and activities for teaching English, then you'll want to check out her other two websites, ESL Speaking and ESL Activities.
Find Jackie Bolen on Social Media
If you want to find Jackie online, you can check out the following:
English Teachers Abroad on Facebook
Certifications
Jackie Bolen is a certified English teacher, having done the Cambridge CELTA, as well as the DELTA (modules 1 + 3). You can see the certificates below:
CELTA, Pass (Grade B)
Delta Module 1, Pass with Distinction
Delta Module 3, Pass with Merit
Presentations
During her time in South Korea, Jackie Bolen was an active member of KOTESOL, holding various leadership positions within the Busan-Gyeongnam chapter (webmaster, secretary, vice-president).
She also presented on various topics at local chapter meetings, as well as the national and international KOTESOL conferences. Here are just a few of them:
How to Teach Speaking: Korea TESOL International Conference 2015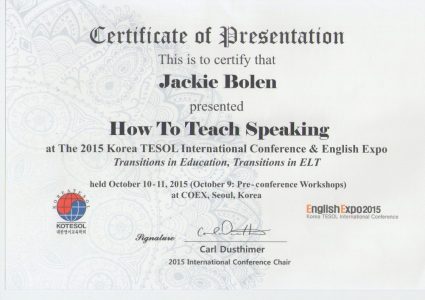 Motivation, Rewards Systems that Actually Work: KOTESOL International Conference 2011
Jackie Bolen and the Let's Talk TEFL Podcast
Jackie Bolen and Jennifer Booker Smith are the hosts of the podcast, Let's Talk TEFL. You can download it wherever you like to listen to podcasts, including iTunes. Or, have a look right here:
Interested in Advertising on My Life! Teaching in a Korean University?
Let's work together to make your business more successful. See: Advertising Opportunities.