Did you know…I'm Leaving Korea
Do people that read this blog know that I'm leaving Korea in March 2016 for a triumphant return to my motherland, Canada? I haven't really talked about it that much on here I guess.
Staying here for 10 more years because I like 5 months vacation = not a solid plan
Anyway, these days, I've been thinking a lot about what it takes to be successful in the transition back home after living abroad for a decade. It's not that I hate Korea, I don't. But, I don't love it either and sticking in a place for 10 more years just because I work 3 or 4 days a week and get 5 months of vacation in not a good way to live.
Conversation Classes: I hope we never meet again
It's onward and upwards to bigger and better things for me that do not involve teaching any more "conversation" classes, ever again, for the rest of my life. Never, ever again. I've reached my maximum capacity of them.
Nervous Energy = I think I'll write a book about it
In an effort to make my own return as awesome as possible, I decided to write a book about people who went back home after teaching English abroad and made it work, hoping to squeeze the maximum amount of wisdom from them as possible. I surveyed 55 of them and the book, "Life After ESL: Foreign Teachers Going Home" should be coming out in early September 2016. But, in the meantime, here are a few tips to make your return home as awesome as possible.
Need even more ESL awesome in your life? Get it delivered straight to your inbox each week


Top 5 Tips for Going Home After Living Abroad
A Plan: Get One
Those who return home with a fuzzy sort of plan that involves living on friend's couches or in parents' basements just don't do well. It's too easy to coast along, indefinitely without a job that way and the longer you're unemployed, the harder it is to get employed.
Serious Job Skills: Get Some
The people that do best are the ones who have some sort of well-defined job field they can go into. Or, they need to be willing to go back to school to get that, in a lot of cases. That is my plan: to get the minimum education necessary so that I can take all the certified financial planner (and other similar things) licensing exams.
Many ESL teachers abroad make a serious mistake when they think that they can do this same job back home. You can, but you're competing against people with serious qualifications and experience for $15 per hour part-time jobs. Do you really want that for your life?
More tips here: Jobs for Former ESL Teachers.
A Money Pool: Have One
Having $30,000 or $50,000 goes a long way towards giving you a bit of breathing room so that 2 or 3 months of unemployment during your job search won't force you back overseas.
A wee bit clueless about the money? This is the book you'll need: The Wealthy English Teacher: Teach, Travel, and Secure Your Financial Future
Motivation: You Need Lots
Some people seem to head back home just because they don't really like Korea, or whatever country they're living in. The people that do best are the ones who are going back to their home country because they really want to and not because they have nothing better going on.
Support: The More the Better
Those with a good network of family and old friends back home seem to do much better than those without that, for obvious reasons. Having this network makes it a lot harder to leave again as well.
Bonus: Reverse Culture Shock
An extra bonus tip for you! So many people in the survey mentioned experiencing reverse culture shock. It is real and it will likely happen to you. Be prepared for it!
Where Can I Find Life After ESL?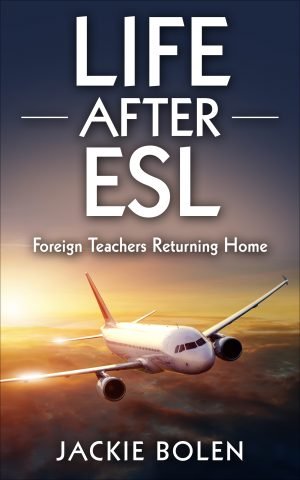 If you're thinking about a move back to your home country after doing the TEFL abroad thing, then the book you're going to need is this one:
Life After ESL: Foreign Teachers Returning Home
You can get the book in digital, print and audiobook formats. Yes, it really is that easy to start preparing for the transition back to your home country and to get some serious advice about which jobs you might want to consider.
Check it out for yourself over on Amazon:
What about the Audiobook for Going Home After Living Abroad?
Or, you can listen to the book for free on Audible.com. Yes, free. You can get your first book for free when you sign up, so why not make it this one, right? Find it here:
Have your Say about Returning Home After Teaching ESL Abroad
Do you have any comments or questions about this important topic? Leave a comment below and let us know what you think.
Also be sure to give this article a share on Facebook, Pinterest, or Twitter. It'll help other teachers, like yourself who are thinking about moving back home.