Ahhhh! What am I Going to do With the Rest of My Life?
Okay so maybe you've been teaching English abroad for years like this guy who spent 17 years working abroad in Taiwan but you're weary of the teaching and are thinking to yourself, "Oh Crap! What am I going to do with the rest of my life? I definitely don't want to be an English teacher! I don't want to work abroad ever again.
You've Come to the Right Place for Jobs for Ex ESL teachers
Don't worry! I'm here to help you (and myself as well). After 10 years in Korea, I'm kind of burnt out on the teaching and kind of burnt out on Korea and despite my total and complete addiction to kimchi, I want to go home. Like I really knew it was just time to leave but I really had no idea what my next plan of action was going to be.
So I decided to get help from my old friends and random netizens who'd been teaching abroad but had returned to their home countries. I surveyed 55 of them, prying every last drop of wisdom from them that I could and I also wanted to know what they are doing now to keep a roof over their heads. What I'm saying is this: if you need some ideas about jobs for former ESL teachers, you've most certainly come to the right place.
Jobs for Former Teachers Idea #1: Certified Teacher
The most popular job option among those polled is working in public schools in their home countries. While this does require a certification, it's very easy to get if you're from the USA, and slightly harder if you're from England, Australia, South Africa, Canada or New Zealand (1-2 year program, approximately).
You can even kick-start the process while you're still abroad by completing some courses online, or by applying for acceptance into a program so you can hit the ground running upon your triumphant return to your Motherland.
Jobs for Former Teachers Idea #2: Work With International Students
Another popular option is to work with international students in a university. If you've been teaching uni students, your experience with this could directly relate to this job in your home country. Plus, universities would specifically be looking for someone with experience living abroad, which you'd have in abundance. These jobs also give you some solid experience in admin, which could lead to bigger and better things in the future.
Jobs for Former Teachers Idea #3: Entry-Level Business or Customer Service
Many former ESL teachers have found jobs in their home countries doing entry-level positions in business or customer service. Sure, it's not going to be glamorous, but it will provide you with a decent chance to get promotions and pay raises, provided that you work hard and are a reasonably capable person.
The survey respondents mentioned the need for humility and a willingness to start at the bottom because your time abroad isn't really going to count for much with these employers. But, just get your foot in the door and things will work out for you.
Need More Information about what to do after Teaching Abroad?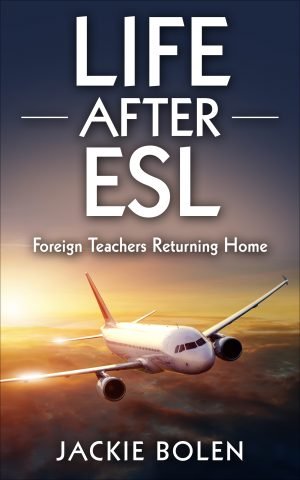 Then, this is the book you need: Life After ESL: Foreign Teachers Returning Home. It has all the results from the survey, more job ideas for former ESL teachers, as well as recommendations and advice for how to make the transition as smooth as possible.
It's available in print format, but you can also download the electronic version to any smartphone, tablet, PC or Mac. If you're planning on returning home within the next year or so, it's going to the best $3.99 you've spent in a long, long time.
What about the Audiobook?
Or, you can also get the book for free on Audible.com. Yes, you read that correctly. You get your first book free with Audible, so why not make it this one, right? Check it out here:
Seriously, it really is that easy to get started planning your move back to your home country. I recommend reading the book 6 months to a year ahead of time in order to get the maximum benefit from it.
Have your Say about Jobs for Former ESL Teachers
What are your thoughts about jobs for former English teachers abroad? Leave a comment below and let us know what you think.
Also be sure to give this article a share on Facebook, Pinterest, or Twitter. It'll help other teachers, like yourself, who are considering a move back home get started with their planning.