Life After ESL: 2 Years in Canada, an Update
As I scroll through my Facebook news feed while eating breakfast, there are more and more memories of the time I spent getting ready to leave Korea. I lived there for a bit over a decade. I left in February of 2016, so it's been almost 2 years in Canada now.
Leaving was one of the hardest decisions I've ever made. I had a great group of friends, went paddleboarding all the time at the beach down the road from my house, had the best job I'll ever have in my entire life and was a huge fan of a ton of stuff Korea (the food, how fast you can get things done, etc.).
It was also the best decision I've ever made. There are, however a number of disadvantages to living in Canada, including:
Far, far, far less disposable income
Paying ridiculous amounts of $$$ for basic services and eating out
It's much harder to make friends (everyone has old friends from way, way back)
Extremely high taxes
Did I mention how expensive it is yet?
However, I'm much happier. And although I don't regret staying in Korea for 10 years, the reality of moving back was easier than I perhaps thought it would be.
Here's what I've been doing for the past 2 years.
Thing #1: Movie Industry
I kind of fell into a high-paying job, working as a first aid attendant/snack table guru (they're combined into 1 job) in the film industry. I did this by taking a 2-week first aid course that cost around $1000, and then buying a first aid kit for a few hundred bucks.
It's kind of a cool job! I've met lots of interesting (famous, and not) people. I've seen the behind the scenes of how movies and TV shows are made. I've been to so many amazing places around greater Vancouver. The money saved has been fabulous because they feed you three meals a day, every day. You never pay for parking. You don't really have to pay for anything yourself, ever. And I worked so much that it was impossible to spend any of the money I was making.
The only real negative is that you kind of have to sell your soul to do it. The hours are extremely long, a normal day is 12-13 hours, and sometimes it's up to 15 or 16. The hours are also variable, which means that it's impossible to plan any sort of social activity around them. One week is nights. The next weeks is days. The next week is 1/2 days, 1/2 nights.
I'm happy that I did this because it gave me some serious financial stability. I ended up using almost none of the savings I had set aside for my first couple years in Canada. I also worked enough days to be able to join one of the unions and get extended health benefits.
Thing #2: Working for Myself, Online
The online thing. I have lots of self-published books. I've been working on it pretty casually since I got back to Canada, instead focusing more on the movie industry thing.
But I've made the decision to work on this full-time for at least the next year and see what can happen with it.
Advice to Myself, Before Leaving Korea
Honestly, I was a bit terrified to leave Korea. Life was easy there. I knew that this would probably not be the case in Canada.
Before I left, I wrote a book "Life After ESL: Foreign Teachers Returning Home" based on a questionnaire and interviews I did with almost 50 teachers who'd done the same thing. I compiled the results and came up with some advice for myself, as well as other teachers in the same situation.
Here are some of the things I said.
#1: Get Yourself a Large Pool of Money
Many of the people surveyed mentioned that you'll need more money than you think when returning to your home country. Although I did find a well-paying job after a few months, I did end up spending a lot of money moving around, buying a car, damage deposit for an apartment, etc., etc. It really added up.
The money thing didn't really stress me out though, because I had set aside far more money than I was actually spending. It honestly would have been terrifying if I had only had a few thousand in the bank, especially when living in Vancouver where rent is kind of ridiculous. Avoid this at all costs.
#2: Humility: Be Willing to Start at the Bottom
People in the survey mentioned the need to humble yourself and start at the bottom. This was my experience in the film industry. My first job was working at a background performer for minimum wage. I then worked as a production assistant (also for minimum wage), until I got my very well-paying job as a first aid attendant.
It was a tough few months, especially after having such a great job in Korea. But, having a good attitude about it was what actually got me my break into the better job. This is what happens to most production assistants—the good ones get a "lucky" break and end up working in another department. The luck is actually a positive, helpful attitude and attention to detail.
#3: Flexibility: You Need Lots of It!
People mentioned the need for geographic, and work flexibility. It's good to have a plan, but it's also a good thing to be open-minded and look for opportunities outside of that.
I originally moved to Vancouver Island, and thought I was going to stay there for at least a few years. I ended up staying only a couple of months before moving to Vancouver. It was an excellent decision in terms of work, and social opportunities.
I planned on doing the online thing full-time in Canada from the start. But I ended up doing something else for a couple of years in order to gain some financial stability. I'm happy that I did it, and I now feel like I'm doing the online thing from a much better place.
#4: Use your Time Abroad Well
This advice was more from me, than the people I surveyed. On this blog, I've talked numerous times about using your time abroad well. By that, I mean don't waste your time. Decide what your longer-term plan is and work towards it.
If you want to be an ESL teacher, get qualified. Maybe you want to be a teacher in the public system back home—see if you can get qualified while still abroad. If you want to work for yourself online, get your side-gig going on. Maybe you want to change careers—see if you can do an MA while still working as an ESL teacher. That way, when you return home, you can hit the ground running instead of burning up a ton of money going back to school.
Whatever it is, figure it out and take some steps towards that.
The last couple of years in Korea were busy ones. I wrote around 15 books that I self-published on Amazon. I also started around five websites. Those things I did are still earning me money today. And I'm now working on improving the websites and adding more books.
It would have been tough to start at ground zero, once moving to Canada. The first couple of years, and especially the first few months were very busy. It kind of felt like I spent months mostly on the phone, with various government agencies trying to do a million and one things. I didn't end up spending as much time working on the books and websites as I thought I would.
Check out Life After ESL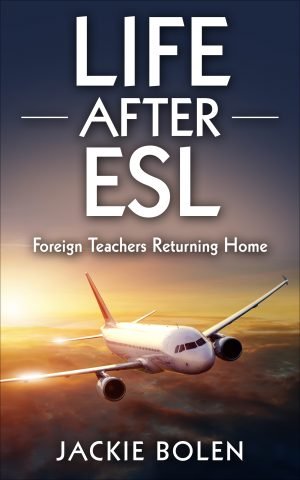 Life After ESL: Foreign Teachers Returning Home has a ton of solid information. Looking back on it after my two years in Canada, I realize even more how true this really is.
If you're thinking about returning to your home country, but are scared, and unsure of how things will go, check out the book. It'll help you through the process, guaranteed. If it doesn't, send me an email and I'll PayPal you your money back.
The book is available in print, digital and audiobook formats. It really is that easy to get more prepared for a move back to your home country.
You can check it out on Amazon:
—>Life After ESL<—
Or, head on over to Audible.com and listen to the book free:
Want to be featured on this Blog?
Do you have a returning home story you'd like to share? An update on how things are going? Are you preparing to go back home now and have some tips for us? Contact me and I'd love to feature you on this blog (leave a comment below, or I have my email on various places around the website). You can either write a guest post, or we can do  it interview style.
Have your Say about Life, After Teaching English Abroad
Do you have any questions or comments about my move back to Canada? Leave a comment below and let me know what you think.
Also be sure to give this article a share on Facebook, Pinterest, or Twitter. It'll help other teachers, like yourself who are contemplating a move back to their home countries.