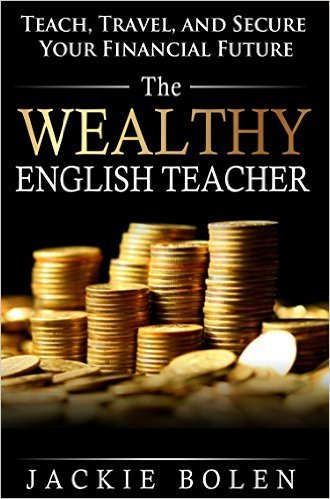 Let's talk money. Everyone wants a bit more of it, right? Here's how you can make that happen in your life. It's simpler and easier than you might think to achieve financial freedom when you're teaching English abroad. Get your expat finances in order, starting today!
Do you Need Help with your Expat Finances?
Are you teaching English abroad but are kind of clueless about expat finances? Don't worry, lots of people are. Perhaps the biggest worry on your mind is having enough money to go out this weekend. Or, making sure you transfer enough money back home to pay off your students loans.
However, there is more to it if you want to achieve financial freedom.
Are you ready for some awesome in your financial future? It's actually not that difficult if you follow a few simple steps.
I wrote a book just for expats teaching English abroad! It's the first and only out there and it's geared to the total beginner with regards to investing. It's so free of jargon that even a 6th grader can understand it!
The Wealthy English Teacher will Help you Get More Money!
The Wealthy English Teacher: Teach, Travel, and Secure Your Financial Future is available on Amazon in Ebook format as well as print on demand physical copies. The electronic version is cheaper and better (you can click the links!) and you don't actually need a Kindle to get it. Any Smartphone, tablet or PC will do if you get the Kindle App.
Keep a copy on the bookshelf in your office as a handy reference tool. Or, take a copy with you on your phone or tablet to learn about financial freedom and escaping the 9-5 as you commute for 2 hours on the subway to work. You'll be extra motivated to hit that frugal and build up that financial power.
10 Simple Steps to Financial Awesome
1. Choosing a job wisely (with advice most specifically tailored to ESL Teachers)
2. Building a small emergency fund to cover unforeseen things
3. Living frugally and paying off debts quickly
4. Advancing your English teaching career by getting better jobs (less hours, more money)
5. Building a full emergency fund 
6. Saving your first few thousand dollars to invest in the stock market
7. Investing in the financial markets and enjoying life
8. Building passive income streams that can earn you money without working (get that side-gig on!)
9. Planning for the future
10. Enjoying financial freedom and quitting your job
I talk about all these things in the book so if you're ready to make some positive changes in your life, then you'll need to pick yourself up a copy today. Check it out over on Amazon.com:
—>The Wealthy English Teacher<—
Learn More about How to Advance your ESL Teaching Career
This is just a small taste of what you can find in the book. The key to making it work as an ESL teacher is increasing your earning power. You can do this either by working fewer hours at the day job and getting a side gig, or finding a better paying job. The video explains it all!
Where Can I Get the Book?
Does it sound like exactly what you need to help get your financial house in order? It probably is. It's the first and only personal finance book written specifically for TEFL teachers.
You can learn more about it over on Amazon:
—>The Weather English Teacher<—
Have your Say about Expat Finance!
What are your thoughts about expat finance for English teachers? Leave a comment below and let us know.
Also be sure to give this article a share on Facebook, Pinterest, or Twitter.